This initiative of the African Union allows people to voluntarily surrender their illicit guns without fear of punishment. Help spread the word in your community!  #silencetheguns #africaamnestymonth #IANSA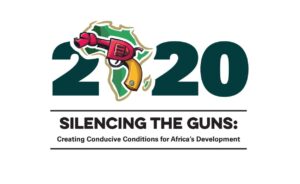 Taking a closer look at gender and armed violence in Africa
According to the UN Development Programme, in Africa, as in other parts of the world, the majority of firearm homicide victims are men (80 – 87%). And in Africa, as elsewhere,  young men may use guns as a part of a rite of passage from boyhood to manhood because of the association of guns with masculinity. This linkage of masculinity with guns is one that should and can be broken to save lives and reduce violence. IANSA has created an image that can be used in social media posts to bring attention to this harmful correlation, found HERE.
According to a study by the UNODC, Africa had the highest rate in the world of females killed by intimate partners (such as husbands or boyfriends) in 2017. Globally, women are far more likely than men to be killed by someone they know, and guns are commonly used in these killings. Moreover, although guns are frequently used to intimidate and coerce women, such cases are severely under-reported.
In Africa, women are subject to sexual violence at the hands of state security forces, armed rebel groups, armed criminal gangs, immediate family members, and intimate partners.  Much of this sexual violence is perpetrated through firearms. Moreover, studies in Africa indicate that domestic abuse against women and girls can increase during and after conflict.
Women, men, girls, and boys all deserve to live in safe, non-violent homes and communities.  Helping to remove illicit guns from circulation, working to break the association of masculinity with guns, and working to achieve equal participation of women in arms control efforts are important ways to achieve this.
It's also important to recognize that women play a significant role as agents of peace and drivers of prosperity in their communities in Africa and worldwide. As peace agents, women can alert to the dangers posed by firearms and encourage everyone in their households and communities to surrender the guns.